Last Thursday, I met a woman who used to own a pot-bellied pig as a pet. Her name was "Judy" (changed for privacy), and the pig's name was Napoleon.
Judy said Napoleon was very loving. He came trotting to the door when she came home. He sang little oinking songs to her throughout the day. He insisted on sleeping next to her at night. He did tricks like rolling over. She fed him yogurt as a reward, and he licked it off the spoon.
Judy did an impersonation of one of Napoleon's oinking songs. It was cute.
Sadly, she lost Napoleon due to a custody situation.
As a result of talking to her, I did more research about pot-bellied pigs. This wikipedia quote is concerning:

Unfortunately, pigs do not like to be held or "cuddled," as dogs, cats or other domesticated predators do. ... Attempts by humans at lifting or hugging are always interpreted by the pig as hostile and result in struggling and squealing. The one time pigs, by instinct, will welcome close contact is to huddle while sleeping, an instinct which conserves body heat and provides protection.

But at least the pig likes to be held when sleeping. That is important.
This could be me!
This could be me!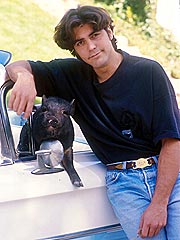 This could be me!
...
Talking with my friend, a Googler.
Me: "I emailed the [Google-internal] mailing list 'pet-owners' about raising a pig, and -- "
Friend: "What? You're so absurd."
Me: " -- and no one owns a pig."
Friend: "Maybe there's a special mailing list 'pig-owners'."