I booked a spot on a 10-day Antarctica trip next March, with
GAP adventures
. The company owns a single boat, the M/S Explorer.
My friend Lori went last year and raves about it.
I chose this boat because it has a "Fitness Center". I expect there will be a lot of downtime while crossing the Drake Passage, and I may as well exercise. Otherwise you get cabin fever or something.
GAP runs an identical trip in January (the Antarctic summer, with 20+ hours of daylight). Unfortunately it was full, so I reserved a spot on the March excursions. It has fewer animal sightings, but I care more about glaciers than penguins. Haven't I seen penguins in the zoo? I mean, look at this:
It's pretty much the same as this, right?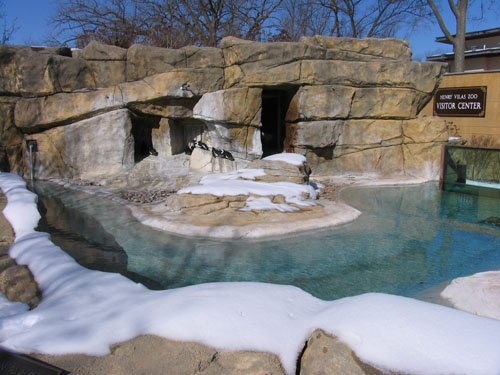 My primary enjoyment of traveling lies in the anticipation beforehand and the fond memories afterwards. During the actual trip, I'm often cranky from the long hours of flying, jetlag, getting lost, starving.
This trip is great because I have nine whole months of anticipation.
The M/S Explorer also has multiple places to socialize. There's a library room, a lounge, a bar, and a cafe. Other Antarctica ships usually only have one large lounge. Having multiple lounges is good, in case one lounge is occupied by a loud person who gets on your nerves.
Today Lori said that she actually swam in a pool of water in the Arctic circle, without a wetsuit. Her body went into shock, and she had a headache the rest of the day, but it was worth it.
...
A couple weeks ago, at dinner:
Me: Is it very cold in Antarctica?
Lori: No, it's not that cold, because you wear special clothes. I find it colder in Berkeley, actually.
Me: [describing Lori's photo of penguins]
Tom: You could bring home a little penguin.
Me: No, it would die! It's used to being in ice all the time.
Tom: Apparently Berkeley is just as cold as Antarctica.
Me: Anyway, there's a January trip and a March one. I'm thinking about the March one.
Tom: Great, it'll be
March of the Penguins
.