There's a CNN article quoting
Obama making a boastful joke about his plane
:

"Hey guys, what do you think of my -- this spiffy ride here?" the president asked the group of reporters traveling with him on the presidential plane.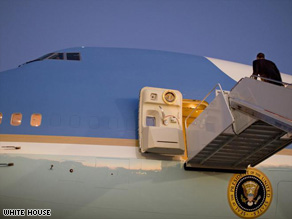 "Thanks for giving me a reason to fly Air Force One," he told the House Democrats after his flight, which took him away from a week of fighting for the economic stimulus bill.

After the flak Obama gave the auto Big-3 CEOs for taking their private jets to Washington, I am disappointed that he turns around and brags about his own jet.
Mr. Obama, you've said a lot of things lately about how executives shouldn't show off their extravagant lifestyles when they're not delivering financial results. Last time I checked, the economy of the US is in dire straits. You're the chief. So why are you parading your spiffy jet? If any American CEO made the same joke standing aboard their own jet, would you not chastise them?
UPDATE: I'm not saying that he should stop using Air Force One, and should fly JetBlue and sit next to me in 23B. I'm saying that he should stop bragging about it, jokingly or not.